The upcoming celebration of Queen Elizabeth II's Platinum Jubilee has created many memorials for collectors. There are T-shirts, coffee mugs and cushion covers, to name a few.
Historically, Jubilee memorials and memorabilia date back several hundred years. Europe and America have historically used plates, figurines, and a variety of ceramics and glassware to display political and cultural events and causes.
The first British Jubilee commemorative item was a Delft earthenware plate made during the reign of Queen Elizabeth in 1600. In 1680 a commemorative cup was made during the reign of King Charles II.
An early example is a 1748 terracotta plate from the Netherlands celebrating a birth into the Dutch ruling family. It is part of the collection of the Deerfield Historical Museum in Deerfield, Massachusetts.
Developments in manufacturing techniques for transferring images and designs onto pottery in the early 19th century were created during the celebration of the 50 year Jubilee of King George III. Wedgewood made a tea service for royal families. The sets were later auctioned off.
Queen Victoria's Golden Jubilee in 1887 offered a wide variety of commemorative collectibles such as ceramics, silk woven pictures, wallpaper and pipes.
The Crystal Palace 'Great Exhibition of the Works of Industry in All Nations', held in Hyde Park, London, England in 1851, was the first World's Fair to exhibit objects relating to the culture and industry. A wide variety of souvenirs with images ranging from medals to mugs and thimbles were made for it.
Not to be outdone, in America, New York City established the Crystal Palace's "Exhibition of Industry of All Nations" in 1853. Like the London version, it was made of iron and glass. Unfortunately the floor was pitch pine. Somehow it caught fire and burned to the ground on October 5, 1858. Currier and Ives created a colorful print depicting firefighters battling the blaze.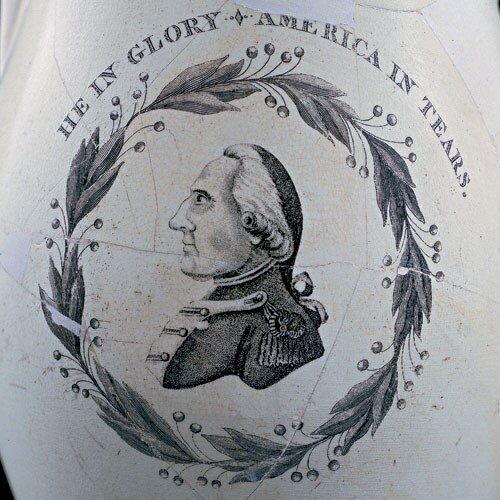 The most interesting keepsake is known as "The Rose". Made of a flat piece of cardboard, it opened up again and again in the form of petals. Each petal represented a steel engraving of points of interest. When closed, it appeared as a colorful, blooming rose. Hundreds have been made and printed worldwide.
The year 1893 marks the opening of the Columbian Exposition in Chicago. Memorabilia from the event depicted images of Christopher Columbus and various exhibit buildings and events.
The Chicago World's Fair in 1933 and the New York World's Fair in 1964 gave rise to many types of souvenirs that are still available and inexpensive.
HINTS: Memorials often had a serious side. In 1820-1830, the slave trade was serious business in England. There were many abolitionists. Josiah Wedgwood commissioned his company to create a terracotta transfer mug depicting a chained, kneeling person. It included the inscription "Am I not a man and a brother" and was a symbol of the struggle for emancipation. It has been continuously reproduced. Prices depend on the date of manufacture.